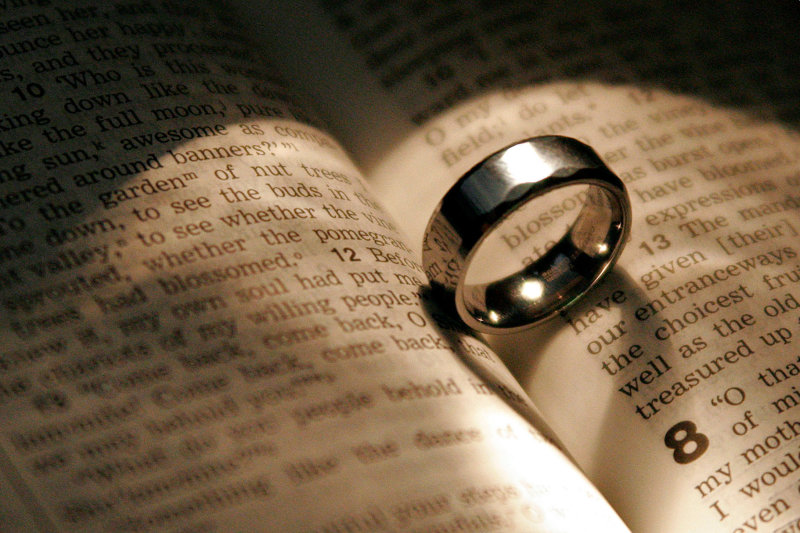 Have you experienced the true intimacy (closeness) that we have been created to have with God? I have known for many years that the only source of true intimacy begins with Him, but I can't say that I have experienced what that actually feels like...until a few nights ago. It wasn't until the other night that I really experienced what intimacy with Christ feels like; and I know I just touched the surface. It's one thing to know that only He can give you something, but it's an entirely different thing to experience it! We sang a song in our praise and worship service the other night called, "You Won't Relent", and it was based on part of Chapter 8 of Song of Solomon. As the words came up on the screen, and as I sang that song, I - for the first time - felt that intimacy that God wants us all to have with Him. I was completely caught off guard by this, because I was doing the MediaShout presentation that night. Normally when I'm over there, I'm concentrating so much on the words going up on the screen that I miss a lot of what's going on around me. Regardless, the Holy Spirit touched me that night, and I will never be the same.
Song of Solomon 8:6-7 "Put me like a seal over your heart, Like a seal on your arm. For love is as strong as death, Jealousy is as severe as Sheol; Its flashes are flashes of fire,The very flame of the LORD. Many waters cannot quench love, Nor will rivers overflow it; If a man were to give all the riches of his house for love, It would be utterly despised."
When I got home, I looked up Song of Solomon 8:6-7 and studied the scripture over the next couple of days to find out the meaning of it all, because there was a lot in those 2 verses that I didn't really understand. I learned that during that time, seals were often given as a pledge. They were used in a similar way that wedding rings are used today. This verse shows that we are close to God's heart. We are pledged to Him, and we are His! Christ's love for us is as strong as death. Once someone dies and is buried in a grave, the grave will always hold onto that person. His jealousy (envy, zeal) for us is as unyeilding as the grave. (Once someone dies and is buried, the grave will never let go of that person, per say.) Christ, also, will never let go of us. His love for us burns like a mighty flame. No water could quench Christ's love for us. No rivers could wash it away. Satan's temptations come as a flood to us, but our love for God will enable us to triumph over temptations in this world.
Every time that I sing this song, I feel that intimacy. I know that intimacy is not all about feelings, but I have finally experienced what I have "known" to be true for so long. This is the intimacy that we have all been created to know! He is not just a God up in the sky who is distant from us. He wants to know you intimately.
He can touch places in your soul that no one on this earth can even come close to touching.
When I was singing this song the other night, I actually felt like the words were almost too personal to say in some places. They weren't just words on a screen. As I drew near to Him that night, I felt Him draw very close to me. Closer than anything or anyone I've ever known. Even my own husband. I experienced what true intimacy with Christ is all about that night. He longs for intimacy with us, and He wants all of us to experience this with Him.
Where are you searching for intimacy?
We were also made to experience a level of intimacy (closeness) with our spouse, friends and family. These are all on different levels, but the true source of intimacy comes from Jesus. When we look to other people or things to feel and experience the intimacy that we were only made to experience with God, we will always fall short. There have been so many times in my life that I have tried to find intimacy in all of the wrong places. The "feeling" and fulfillment I was trying to get from all of those things didn't even come close to comparing to what I experienced the other night. Thank you, Jesus!
I would love for you to listen to this song. You may want to look over the scriptures above, along with the meaning of them first, and pray about it all before you listen to the song. I pray that God touches you in the same way He touched me with this song. If you can, listen to this when you are alone and have time to soak in His presense while you listen. Close your eyes if you need to. Pay attention to the words, and recognize the meaning of what is being said. Jesus loves you and desires to be closer to you than anyone else. He is trustworthy and knows all of your shortcomings. They don't surprise Him. He already knows. He wants you to turn to Him and give yourself to Him completely. He longs to be with you!
Picture credit: religion.lilithezine.com